Welcome to Berean! Berean is a vibrant, transgenerational church that celebrates lively, expressive contemporary worship, as well as hymns and traditional gospel. Our praise and worship seeks to create an atmosphere where individuals are free to praise God or just sit quietly and meditate. We also value plain Bible teaching, which is why Bible study is a regular part of our church's ministry. Whether you are a visitor, someone who's recently moved to Baton Rouge, or simply seeking to gain deeper insight into the Bible, please come fellowship and grow with us.
Saturdays 11:30am Worship Service
Wednesday 6:30pm Hour of Power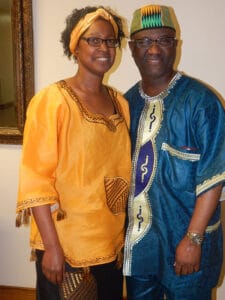 Pastor Theodore Rondolphus Weegar, affectionately called Pastor T. Ron Weegar, is the senior pastor of the Berean SDA Church in Baton Rouge, Louisiana..
A graduate of Oakwood College now Oakwood University in Huntsville, Alabama, with a B.A. in Ministerial Theology and a Masters of Divinity degree with an emphasis in Homiletics and Preaching from the Seventh-Day Adventist Theological Seminary at Andrews University in Berrien Springs, Michigan. Pastor Weegar is presently pursuing a Doctorate in Urban Ministries at Andrews University.
Pastor Weegar began his ministry in the South Central Conference of Seventh-Day Adventists where he was blessed to pastor in the Eastern Tennessee and Mississippi Gulf Coast areas before coming to serve in the Southwest Region Conference where he served the historic Ephesus SDA Church for 10 years before taking up the pastorate at Berean early last year.
Pastor Weegar is a native of Liberia, West Africa who spent his teen years in Philadelphia, PA. Pastor Weegar is the loving husband of the former Sharon Claudette Christie. Their marriage has been blessed with three beautiful and loving children. An adult son Dessy Garvo who lives in New Jersey, and two adult daughters Jessica Tramaine of Denham Springs, and Faith Allison, a Junior at Oakwood University and three wonderful and energetic grandchildren Jayden Ira Richard, Jeremiah Antonio and Khaza Islah Marie.
Pastor Weegar loves the Lord and people. Evangelism and soul winning are the lifeblood of his ministry. His favorite bible verses are Psalms 91:1 "He that dwelleth in the secret place of the most High shall abide under the shadow of the Almighty," and Romans 8:28 "And we know that all things work together for good to them that love God, to them who are the called according to His purpose."
Spanish Ministry (Se habla Español)
Escuela Sabática Sábado – 9:30 AM
Servicio de Adoración Sábado – 11:00 AM
Sociedad de Jóvenes Sábado, Puesta del Sol
El ministerio Hispano de la Iglesia Adventista del Séptimo Día Berea fue dado a luz a partir de una visión de alcanzar a la comunidad latina en Baton Rouge y sus alrededores con el evangelio eterno de Jesucristo, El ministerio Hispano pretende proporcionar a los miembros de la comunidad latina la oportunidad de crecer , la comunión y la adoración Jesucristo- y discipular a los creyentes a través de la Palabra de Dios, la oración y la adoración juntos en un mismo Espíritu.
Berean's School (Martin Luther King Jr. Christian Academy)
The Vision of Martin Luther King Jr. Christian Academy is to produce students who excel in faith, learning and service by delivering G.R.E.A.T. education that is God-centered, Results-oriented, in an Environment that is safe and nurturing, Aligned with Adventist and national standards, and a Team effort.
Our Philosophy is to meet the needs of the whole child. We honor the natural cycle of learning. The natural cycle begins by connecting with the child's experience, moving on to provide information and practice finally culminating with a celebration of new learning. In keeping with the Seventh-day Adventists philosophy of encouraging students to be "thinkers and not mere reflectors of other men's thoughts", our teachers encourage students to use active-learning techniques (experiments, real-world problem solving) to expand their knowledge and enhance their understanding of the world. Dialogue and collaboration are crucial to the process. In our classrooms, children talk about what they are doing and reflect on how their understanding is changing.
Berean Wellness and Community Support Center
Berean Wellness Center seeks to improve the lives of people in our community through health, fitness, holistic disease prevention and care, and education. We bring together various organizations and agencies, and, through a collaborative team approach, provide health, wellness, and educational resources, programs and activities that strengthen our community.